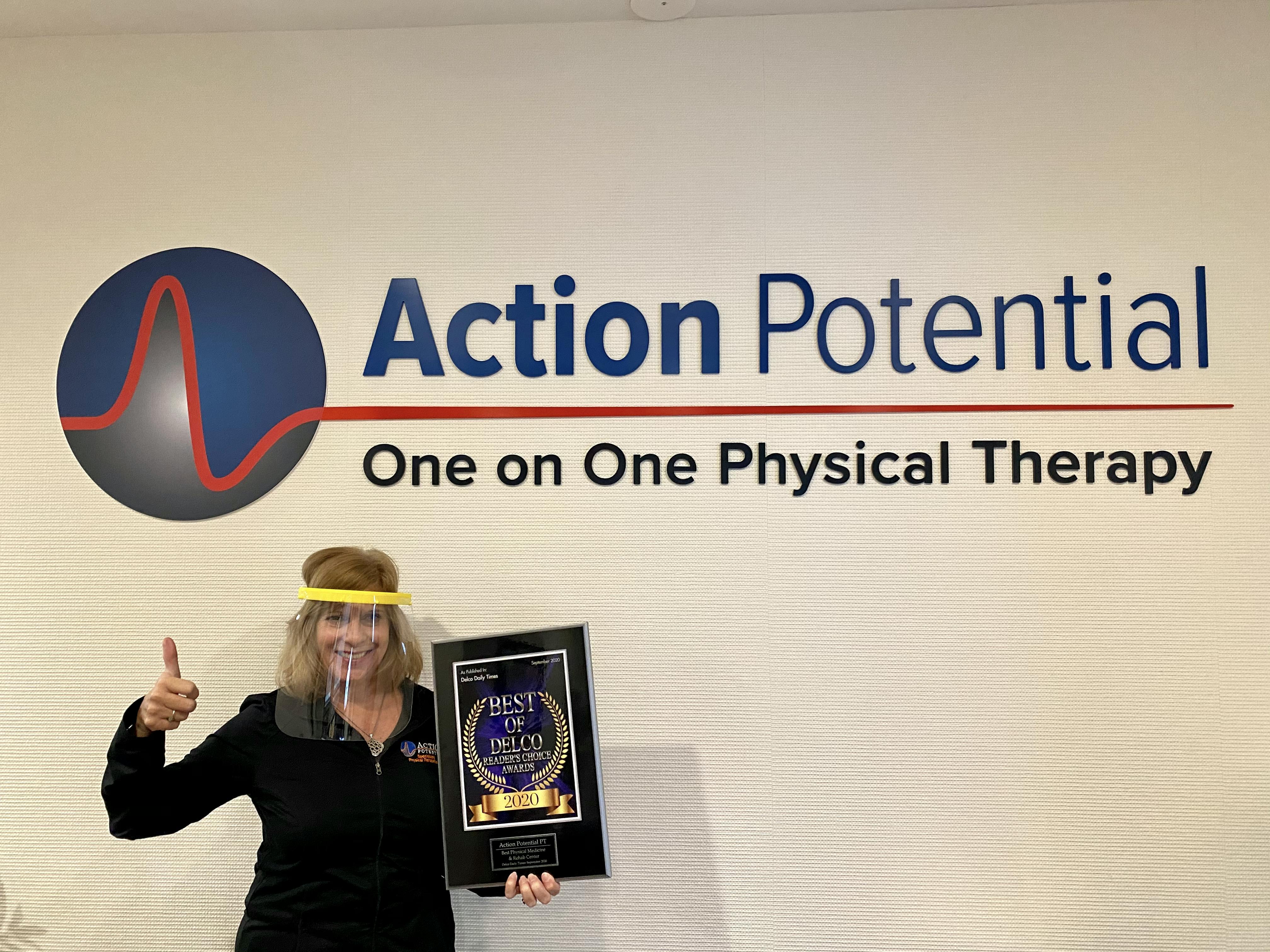 In October, word came via email that Action Potential won 2020 Best of Delco in three categories: Best Physical Medicine & Rehab Center, Best Physical Medicine & Rehab Doctor Kristen Wilson, DPT, AND Best Physical Therapy Center. And while the award created an electric buzz in our clinic and excitement radiated through our team as we relished the thought of being chosen as the "best", we are most grateful that this acknowledgment came from our AP supporters.
Our mission at Action Potential is "Everyone has a higher potential, together we can reach yours". I have worked at Action Potential as a staff Physical Therapist for 5 years and the word that sticks out to me in that statement is "Together". One of the main reasons I am committed to Action Potential is the community and family focus. We see each of our patients and team members as individuals with their own goals first. But we know that no individual is an island. We recognize that each of us play an integral part in our family and community as a whole.
Action Potential has structured the company and treatment style with the individual and community in mind. We take pride in our community participation and lectures on PT tips to improve daily activities. We also utilize a 1 on 1 treatment model because it allows us to really get to know each of our clients and tailor each session to their specific needs. Our goal is to get each person doing what they love, from walking or playing a sport, to actively participating with their families and friends without pain or limitation. Frequently, we will treat multiple people in a family or social group, reinforcing our gratitude that most of our clients come from word of mouth. As a small business in Delaware and Chester County, we see our clients as family and this has shaped how we approach each person who walks through the door.
We at Action Potential are honored to be named the "Best of Delco". We see it is an overflow and recognition of our day to day desire to impact our community one person, one family, one community group at a time. As we close 2020, we are reminded of what counts, not necessarily what we do or how we are acknowledged, but who we do it with. Thank you, Delco for choosing us.
Contact Us
For more information regarding Action Potential and the award-winning team, contact us today to speak with a team member directly!
The safety of our clients is our top concern. For any questions regarding our in office policies please contact us.