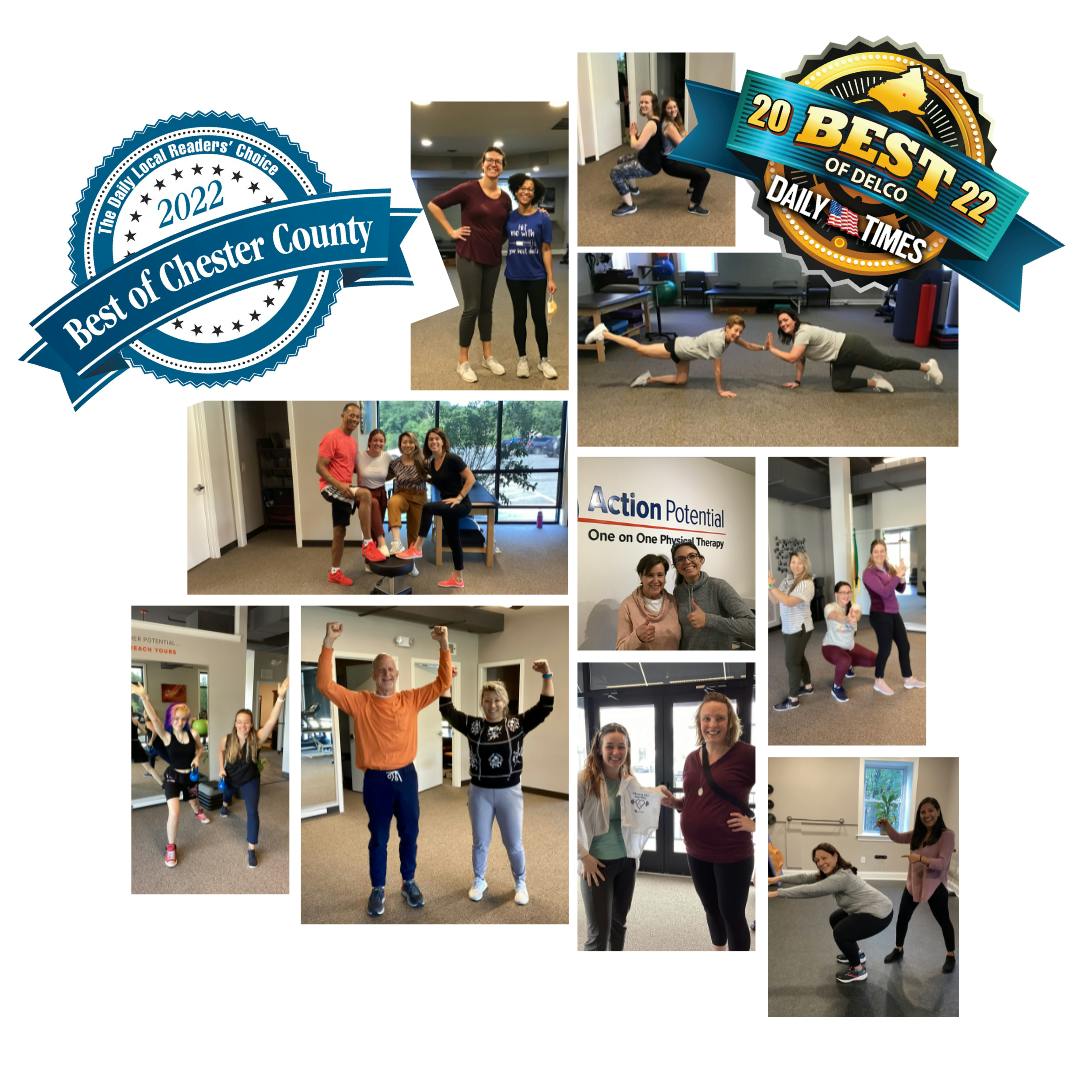 In late fall, Action Potential was notified via email that we were not only named 2022 Best of Chester County but Best of Delco in the Health & Wellness category for Best Physical Therapy Clinic.
Being voted the "best" in both locations created an overwhelming amount of joy in our clinic. The excitement carried on as community members soon heard the good news. As we look back on the last year, we are again reminded of what matters most, the support from our AP community.
This recognition was a gentle reminder of the dedication and passion for success that our team shares with our clients. Every person that walks through the doors has one common goal: the pursuit of excellence. We see each of our patients and team members as individuals with their own specific goals and not just another number. But we know that the success and the future of Action Potential radiates far beyond a single person's contribution. We recognize that each of us plays an integral part in our community as a whole.
Action Potential has structured the company and treatment style with the individual and community in mind. We take pride in our community partnerships and lectures on PT tips to improve daily activities. We also utilize a 1 on 1 treatment model because it allows us to really get to know each of our clients and tailor each session to their specific needs. Our goal is to get each person back to doing what they love, from walking or playing a sport, to actively participating with their families and friends without pain or limitation. We frequently treat multiple people in a family or social group, reinforcing our gratitude that most of our clients come from word of mouth. As a small business in Delaware and Chester County, we see our clients as more than just a number and this has shaped how we approach each person who walks through the door.
We are honored to be named the "Best of Chester County" and "Best of Delaware County." We see it as an overflow and recognition of our day-to-day desire to impact our community one person, one family, and one community group at a time. After another exciting year, we are reminded of what counts, not necessarily what we do or how we are acknowledged, but who we do it with: each of you. Thank you, Chester County and Delaware County for choosing us!
Contact Us
For more information regarding Action Potential and the award-winning team, contact us today to speak with a team member directly!